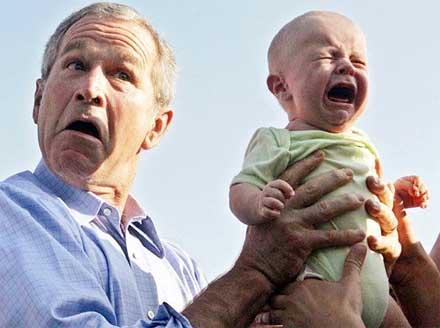 Haw, I guess I'm joking a little bit, but honestly, Mediaite's posts on "retardgate," my favorite "_____gate" ever, are actually quite good.
This latest one
has a particularly tasty nugget of Sarah Palin's hypocrisy, about the evils of banning certain words:
Look at what's going on in France, where that psychological abuse, where those words spoken that aren't politically correct and accepted in that country. Won't be allowed. Will be deemed illegal. Now some who want us to turn into a country like that scare the heck out of me. And unfortunately some of those people are leading our country today.
In the spirit of full disclosure, here are my sins:
I referred to a character in a coloring book as "a retarded deputy."
I declared that it was officially too easy to quote "retarded comments" from Fox Nation.
I called Michael Steele's and Rush Limbaugh's feuding "retarded in-fighting."
I also pointed out that Michael Steele was the "first African American mentally retarded man to run the Republican party.
I couldn't help but notice that a selection of "defining moments" photographs of Bush included several where he was "looking his most retarded."
I pronounced a "sexiest woman in politics" poll to be "retarded."
I felt that only "the most retarded retards in Retardistan" would purchase a burning cross Christmas decoration.
The Telegraph, UK "rounded up all the most retarded shots they could find" for their "tribute" to departing George Bush (see above).
I declared that a hairdresser's opinion that Obama should wear glasses to making himself look smarter was "simply retarded."
In my post about how to comment on this blog, I revealed that I only left trollish comments if they were "laughably retarded."
I pointed out that I used the word "retarded" to describe Christian fundamentalists "neither lightly nor unintentionally."
I referred to a post by Spencer Ackerman as "his most retarded yet."
After posing the question "Is there really a difference between Sarah Silverman's and Ann Coulter's faggot jokes?" I answered, "Don't be retarded, of course there is."