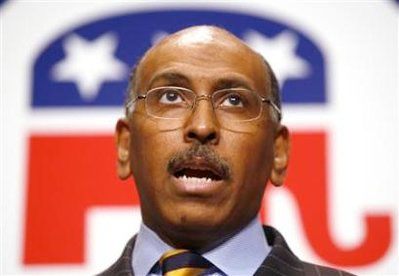 Michael Steele speaks after being elected Republican National Committee chairman in Washington January 30, 2009. (Molly Riley/Reuters)
Yay! Oh, Michael, I knew you wouldn't let me down. The first African American mentally retarded man to run the Republican Party was on the Wolf Blitzer show last night, and since he was on for more than five minutes, he
said stupid things
that made no sense:
And first off the government doesn't create jobs. Let's get this notion out of our heads that the government creates jobs. Not in the history of mankind has the government ever created a job. Small business owners do, small enterprises do. Not the government. When the government contract runs out, that job goes away. That's what we're talking about here and those 2 to 4 million jobs that are projected? Won't happen, trust me.
The government doesn't create jobs? Yikes! Who has been
paying my salary
for the last nine years? I better look into this. Also: who paid Michael Steele to be lieutenant governor of Maryland?
Or, as Josh Marshall
puts it
, has Michael Steele ever heard of NASA?