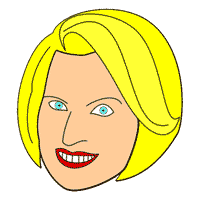 It's a shame that Newt has apparently already crested, as the nation says in one voice, "Oh, right,
that
guy.
Now
I remember why I hate that guy." The happiest side-effect of the Newtstravaganza was that a lot of people got all excited about Goddess Callista. A lot of people! I'd say that right now, about 80% of this blog's traffic is Callista-driven (the other 20% is interested mostly in
inappropriately sexy children's toys
and
Angela Merkel porn
). There's even
an anti-Newt website
run
by conservatives
(is that you, Sparkle Pony blogcrush Jennifer Rubin?) which links approvingly to PSP's
coverage
of Ms. Gingrich's crazy eyeballs.
Callista Gingrich superstar! I think Pony Pal™ Blue Gal is homing in on a great idea
here
: Callista biopic! They could get Charlize Theron with a prosthetic nose to star! Elsewhere, intrepid reporter Holly Allen at Slate
wondered
what it would be like to
become
Callista, but wasn't quite intrepid enough to pull it off –seriously, she didn't even come close– leading one to wonder why she bothered.
And what's-her-name McCain!
The very nerve
! "I'm sorry, but I don't find this woman terribly appealing," she blasphemed, proving that she is completely unfamiliar with all concepts of beauty and superior hairdo appreciation. And you'd think Meghan would know! She's the daughter of one of the galaxy's supreme beings (Cindy, not John, duh)!
Meghan, is that any way to treat the lady who bestowed this
stirring and in no way robotic video Christmas card
upon the world?
Speaking of blasphemers, PSP girlfriend Jennifer Rubin also hopped on the Callista train, calling her "
Newt's enabler.
" I'll say! She enables him to be ten times more fabulous! You'll be surprised to hear that's not how Jen sees it:
Now let's take a look at Callista. There was that interview when she begged for Marianne's forgiveness. There was the one when she expressed remorse for having broken up a marriage. Oh, wait. She's not done any of that.

[...]

How would she feel if another woman had an affair with Gingrich? And by the way, how did she manage to ring up six figures in Tiffany charges?
MeOUCH! But Jen was mostly just reacting to Kathleen Parker's
thing
about how Callista shouldn't tweet or something. Whatever.
And finally, the Huffington Thing has a "Callista through the years"
slide show
which they could have put a lot more work into; it's just pictures with no commentary. It's fascinating, though, because it's in chronological order, so you can see lumpy 2000 caterpillar Cally morph majestically into the gorgeous, brittle butterfly she is today, but it's frustrating because you wish they had started in the 90s and there's a lazy, abrupt jump from 2000 to 2007 (or perhaps that's when she was in her chrysalis?).
Sadly, this may be the crest of Callista Media Saturation, unless an unforeseen dramatic change happens in the Republican primaries, so let's hope Mitt Romney and Ron Paul get caught gay marrying each other at an Occupy Wall Street protest or harboring Mexican Al Queda jihadists in their basements, and then Newt 'n' Callista can have another chance (but only then, I'm afraid).