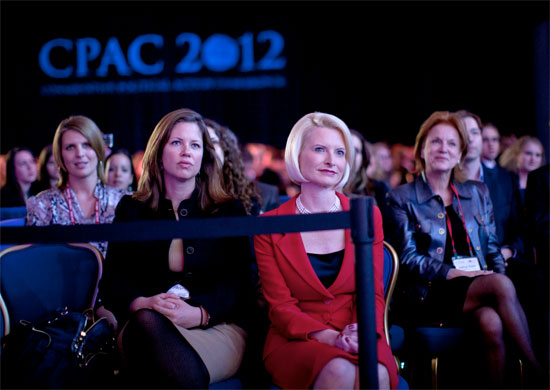 Callista Gingrich watches as her husband, Republican presidential candidate, former House Speaker Newt Gingrich speaks at the Conservative Political Action Conference on Friday, Feb. 10, 2012 in Washington. (AP Photo/Evan Vucci)
I lamented
just the other day
that what Goddess Callista really needs is better writers. I've got good news and good/bad news on that front. First, the wonderful/terrible news is that whoever wrote Callista's introduction to Hubby at CPAC is a hack of the worst sort. Did you
watch this awkward thing
? The golf jokes were so bad. Did Callie write this stuff herself? Her delivery was also unimpressive, stilted and robotic, so that was excellent. If this is the campaign's idea of "
unleashing Callista
," then I'm looking forward to more cringe-inducing greatness.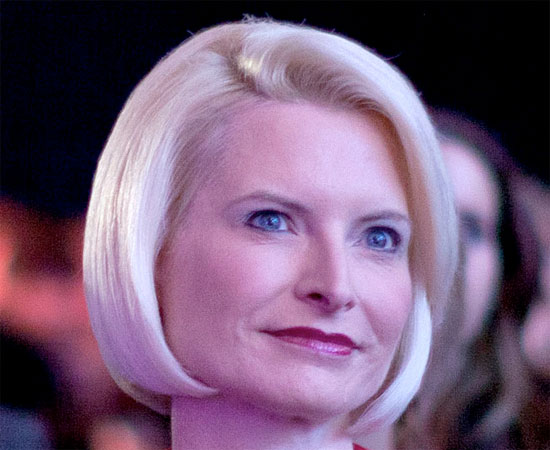 Now as far as people writing
about
the Mistress of the Platinum Space Helmet rather than
for
her, things are improving. Several mainstream journalists have attempted and failed to address the magic and wonder of the spherical coiffure, but I really enjoyed
Elissa Gootman's meditation/investigation
in the
New York Times
. This is finally a top-notch report on this crucially important subject, and you will love it. Best sentence ever:
Yes, there are pressing issues facing the nation, from unemployment to foreclosures. But there is still room, it seems, to contemplate the fixed pale-blonde halo framing the delicate head of Newt Gingrich's wife.
Hear hear! Or, rather,
here here!