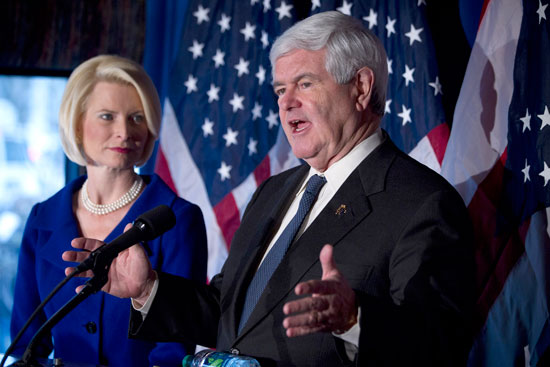 Republican presidential candidate, former House Speaker Newt Gingrich, accompanied by his wife Callista, speaks at the Price Hill Chili Restaurant in Cincinnati, Ohio, Tuesday, Feb. 7, 2012. (All photos AP Photo/Evan Vucci)
OK, so, yeah, Maureen Dowd wrote something about Goddess Callista and it was limp, obvious stuff: Callista is "wifey," a throwback, etc. Yes, we know that. I'm not unsympathetic, because it is frustrating for a writer to be faced with such a subject: so alluring, and yet so devoid of content. But good writers have been making alluring yet empty things both fascinating and entertaining for centuries, so you'd think, my goodness, that the Callista Express is totally a rocket Maureen Dowd can clamber aboard and ride to the moon, right? But no. And that's because Maureen Dowd is not a good writer.
And neither, for that matter, is Matthew Shelley of CBS News, who offers up a stunningly pointless
"analysis"
of Callista even more lightweight than Dowd's. It turns out that Callista Gingrich is quiet and doesn't say much. Analysis!
Let's take a break, share a moment of silence, and stare at a picture of Callista: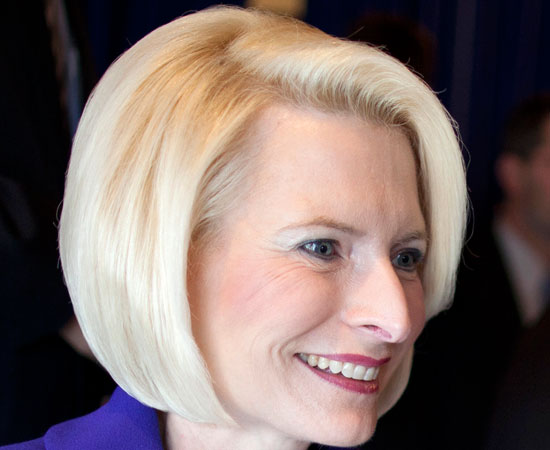 Ahhhh, that's better. Was that good for you, too? Note that the formidable hair sculpture has recovered nicely from its recent run-in with a cruel, overzealous dye pot wielder. Phew.
But speaking of the hair, wouldn't you like to
watch a video of French comedians
making fun of the Callie Coiffurechitecture (You guys! I totally just coined that word!!)? It's a little hard to figure out, because as Steve Martin once said, it's like those French have a different word for
everything
. Here's the New Yorker, thank goodness,
with a play-by-play
:
Next: "We have an image just of Callista!" She's in blue. The hair is voluminous. "Good God!" Barthès sputters. He makes some gestures around his head. "But what is this crash helmet?" A moment later, he declares, "We have discovered the secret of this mysterious cut, thanks to Leonardo da Vinci." Now it's Caleesta again, with the Vitruvian Man superimposed on her face. Barthès rattles off measurements and radii in a tone of Dan Brown-ish portentousness. We see another image of Callista, on a day with "winds strong enough to tear off a cow's horn," standing alongside Newt. "It swells slightly," Barthès says, "but nothing moves."
Huh.
Analysis with graphical overlays
concerning the spherical nature of Callista's Platinum Space Helmet?
Pointing out
that inferior beings' hairdos are subject to the whim of the winds while Callista's is not? Sounds like
somebody's
been visiting Princess Sparkle Pony, n'est-ce pas?
And that's OK, because I'm honored to be of service to French comedians. May I be of service to Jean Dujardin next, please?
One more thing: at breakfast this morning, one of my coworkers couched the idea of the hairdo's majestic side tentacle actually being
prehensile
. Oh wow, my mind was flooded with such visions!