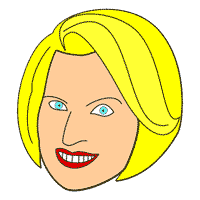 OMG, all this Callista! How long can it last? We wanted more Callista and we got it, but now nobody knows quite what to do with it. It's like you're having a dream where you're walking down the aisle of a grocery store, and all the products are labeled "Callista," but none of them list ingredients, so you can't tell what anything contains. Yes, it's exactly like that.
So what are people saying about Queen Hair Sculpture™ these days? Buzzfeed has
a hilarious piece
about how Gingrich Production's communications directer massaged Callista's Wikipedia page over and over, repeatedly, and then got caught lying about it, and then "made peace" with the Wikipedia editors. I wonder if he's the one who deleted the funny gag about Callie-Lou's "
superb skills at oral sex
"? This is a fairy tale for the 21st Century. Disney will make this story into an animated feature in 2035.
Turning to a tale quite a bit less suitable for a children's movie is Media Snack's story about
reporters from Vice
asking the Gingriches if they had an "open marriage," to which Newt said no but Callista, thrillingly, did not.
Speaking of which, sorry, I haven't bought the
National Enquirer
with the Callista lesbo fantasy yet. That's because I'm scared. Scared that such a great thing couldn't possibly be true. Have you braced yourself for the letdown? Stay tuned!
Next, the
Financial Times
cruelly uses Callista as
an exception to the rule
that politicians' wives "humanize" their husbands, stating that her "stand-by-your-man role seems like a throwback." Bitches. They're just jealous.
And finally for today, Callista's
charity of the month
is the Mount Vernon Ladies' Association, an association of ladies who are rich and attend cocktail parties at George Washington's house. One day, Callista, you will rule them ALL.