(Click for lots bigger.)
Above is the original drawing (sorry, it's a patched together "frankenscan") for the "Nancy" strip which was originally published in newspapers on Sunday, July 30, 1967. Later it was slightly altered (the date on Sluggo's sign was changed from "AUG. 20" to "JULY 4") and re-run on Sunday, July 2, 1978. The pen, brush, and ink drawing with paste-up title measures 17" x 24". Look at the larger version and you'll see, too, that it has a
lot
of white-out all over it, probably used to cover up accumulated scuff marks when the strip was re-used after a decade in storage.
Like most hardcore Nancy fans, I'm not as impressed by the Sunday pages, but I had to get one, and this is an above-average example. Basically, Bushmiller's weekday strips were masterpieces of minimalist balance and tight gag structure, little vaudevillian Zen koans, so carefully constructed that they are absorbed by the brain before the eyes even have a chance to blink. The Sundays, however, are a little flabby, with too much setup for the final gag. You can see above that the bottom two panels would make a great stand-alone strip*, and everything above is pretty unnecessary (keeping in mind, to be fair, that the top row was designed to be drop-able). Furthermore, Bushmiller relied heavily on his assistants for the Sunday pages, making them even less "pure." Fantagraphics will not be including the Sunday pages in their
forthcoming Nancy collections
, and while unfortunate, it doesn't bother me all that much. All the same, these individual panels are well composed and the drawings are, of course, excellent. Note, too, that the first panel includes a strange double appearance of the mystical "
three rocks
."
Just for fun, I decided to clean up the scan and make a color version of the strip. I used
only those colors
available to newspapers of the period, and referred to Sunday Nancy scans online as a guide. Otherwise, I tried to keep it simple and use Bushmiller's own compositional strategies** to place the colors in a harmonious, rhythmic way: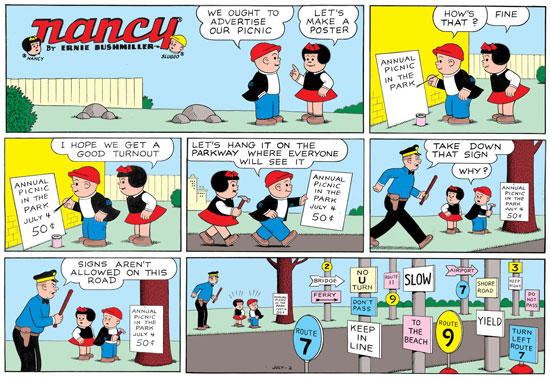 (Click for bigger)
*In fact, I have in my collection an unfinished drawing by Bushmiller for a weekday strip which was abandoned and then expanded into a Sunday page.
**Bushmiller was apparently not very involved in the coloring of the Sunday pages, and indeed, it's hard to imagine him caring much about anything other than black and white.
UPDATE: I was just thinking of other cartoonists whose work was way, way better on weekdays than on Sundays and vice versa. Better on weekdays: Dick Tracy, Alley Oop, For Better or For Worse, Terry and the Pirates, Dennis the Menace. Better on Sundays: Krazy Kat, Gasoline Alley, Gordo, Bloom County. Equally gifted in different ways at both: Calvin and Hobbes, Peanuts, Captain Easy, Li'l Abner, Mutts, Non Sequitur. Etc.!
UPDATE: To illustrate a point I made in the comments about how this page would likely be reformatted for comic book use: