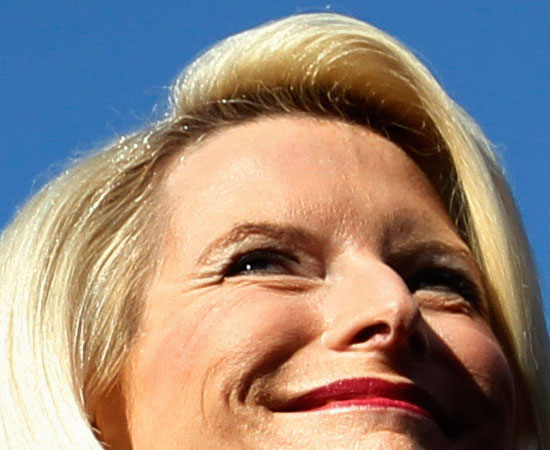 (See below for full picture and caption)
Ooooooh, Honey, you have
got
to get those roots done! Where is the
mobile hairdo command center
? The shape is perfect, firm and sharp, I'll grant you that, but those roots absolutely must be whipped into submission. That die job must be 1 1/2 weeks old!
Because I'm telling you, My Queen (sorry, I've been watching Game of Thrones. So good!), your hair is getting a LOT of attention right now. I recently wrote about traffic to this humble Callista fan site
spiking dramatically
in part because of your mighty coiffure. Well, let me tell you that today this trend swelled even more alarmingly, generating more than four times my normal page views, due entirely to massive amounts of hits from Yahoo, all because people specifically want to view
your
incredible platinum orb.
So anyway, Queen of All Whom She Orbits, I'm just saying that hairdo maintenance is critical right now. If you don't do it for yourself, at least do it for the Pony Pals™.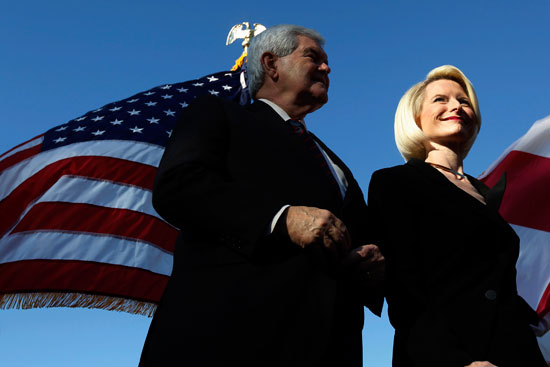 Republican presidential candidate, former House Speaker Newt Gingrich, accompanied by his wife Callista, waits to speak at a Tea Party Rally, Thursday, Jan. 26, 2012, in Mount Dora, Fla. (AP Photo/Matt Rourke)