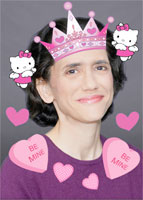 Oh, Jennifer, Jennifer, Jennifer... I just love Jennifer Rubin so much! She is absolutely
freaking the fuck out
about Newt Gingrich, and it is the cutest thing ever. She simply...
sparkles
when she gets like this! It's times like this that I just want to dress Jennifer Rubin up in an adorable outfit and place her on one of those plinths at Trafalgar Square so that a whole bunch of random tourists can stare at her and see how great she is.
So anyway! Newt! OMG, here's just one day's worth:
For those keeping track, out of eight posts today (so far), seven have been mostly about how awful Newt Gingrich is.
Are you trying to tell us something, Jen? What are you implying about Newt Gingrich? She's so subtle, it can be hard to tell sometimes.