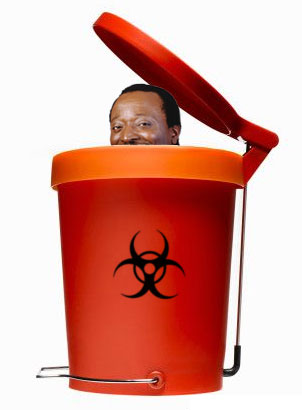 Ha, ha! Wheee! Alan Keyes, once again,
plays it klassy
:
These candidates produced the result the AIDS analogy would lead one to expect. In terms of the conservative constituency of the Republican Party, Sen. McCain is an opportunistic infection that threatens to ravage and destroy its defenseless body. Tragically for America, in the larger context of our national political life he still plays the role of the AIDS virus, masquerading as a republican while opening the way for Barack Obama, the opportunistic infection that will ravage the defenseless body of our republic. If we accept the McCain/Obama choice, we resign the republic to its demise. I guess the "lesser of evils" crowd will take comfort in the notion that though infected with HIV, the patient actually died of pneumonia. Unfortunately, this is false comfort, since the choice they make increases the virulence of the opportunistic infection. In today's political terms, their surrender to moral relativism makes Barack Obama's election to the presidency more and more inevitable.
OMG, and it goes on and on AND ON from there. The editorial is, like, a million words long. Can you get through the whole thing? Are you sure? I can't.