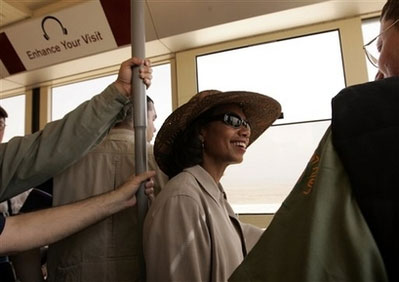 (AP Photo,
05-15-08
)
Big mess? New world war? New cold war? Neocons' wet dreams come true? I'm sorry, but Condi's
on vacation
. She'll get back to you:
US Secretary of State Condoleezza Rice has also been noticeably absent on the diplomatic scene, having failed to interrupt her holidays to fly to Tbilisi in support of the Georgian government.

Instead senior State Department official, Matthew Bryza, who oversees the Caucasus region was sent, two days later than planned, to join a joint EU-US mediation effort to win a ceasefire.
What, not good enough? OK, OK, she'll make some phone calls.
Lots of phone calls
.
I mean, GOD, leave her alone, OK?