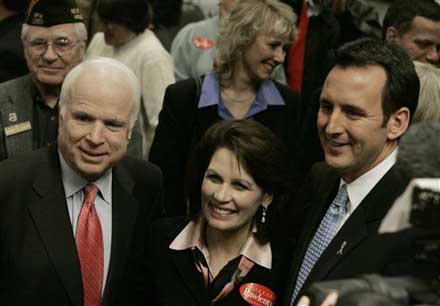 (AP Photo 11-01-06)

Excuse me, but I think a lot of us have forgotten James Watt's admonition that Jesus was due to return any day now and OMG, he's going to be
pissed
that we didn't use up all those natural resources with which he so thoughtfully provided us.
Thank goodness
for Michelle Bachmann:
House Republicans say they will continue their floor revolt over gas prices during the congressional recess until Nancy Pelosi allows an up-or-down vote on offshore oil drilling. Congresswoman Michele Bachmann (R-Minnesota) says she plans to return to Washington to join in the protest.

"[Pelosi] is committed to her global warming fanaticism to the point where she has said that she's just trying to save the planet. We all know that someone did that over 2,000 years ago, they saved the planet -- we didn't need Nancy Pelosi to do that," says Bachmann.

"But she is committed to not allowing any drilling," the Republican lawmaker continues. "She, [Senate Majority Leader] Harry Reid, and also the Democrat [sic] presidential presumptive nominee Barack Obama are all committed to no new energy, whether it comes from natural gas, oil, or coal, or nuclear power."
Hmm, what about solar power and other renewable, non-destructive energy alternatives? Oh, right, those must be tricks created by Satan to fool man.