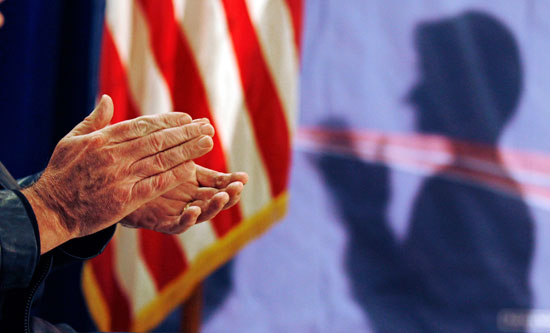 (01-09-12, AP)
You may have noticed a bit of tapering off of PSP Callista worship. She's kind of a one-note symphony! Don't get me wrong, I still love our golden-helmeted goddess, but the pickings are getting a little slim as the wire service photographers get increasingly bored with her.
Longtime PSP readers will certainly recognize this trend, as it was extensively remarked upon in my Condoleezza Rice coverage when the increasing Condi-ennui of the boys from Reuters, AFP and AP became evident in a series of
arty
,
convoluted
shots where the
desperate artists
were trying... well,
desperately
... to come up with new ways to make middle-aged people
standing behind podiums
look interesting.
And so it is, as you can see above, with Callista.
Mama needs a new hairdo.