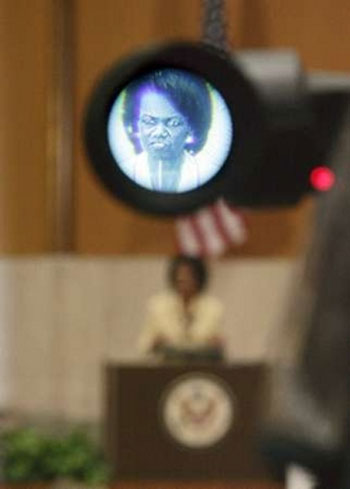 U.S. Secretary of State Condoleezza Rice is seen through the viewfinder of a video camera while speaking to the Edward R. Murrow Journalism Program participants at the State Department in Washington April 10, 2007. REUTERS/Molly Riley (UNITED STATES)
Molly, honey, I am totally your instant #1 fan! Hand it to Reuters for having the best Condirazzi squad of all, thanks to team captains Larry Downing and Yuri Gripas. AP and AFI are going to have to seriously step up their games to compete with this talented new Condiography superstar!
Whew! Was it good for you, too? It kinda reminds me of that movie
They Live.

UPDATE:
The more I look at this magical photograph, the more I'm prepared to say that this may be, in fact, the single most unflattering picture of Dr. Ferragamo I've ever seen. And that's saying something.