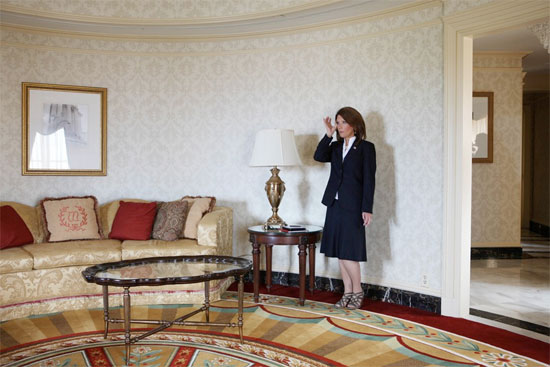 Click for bigger, magnificent. Best Michele pic EVER.
Ha ha! Newsweek is taking a little heat for their
ka-raze-ee
cover photo of Michele Bachmann, so they posted what they purport to be
"the outtakes"
from the photographer's work to prove that she always looks crazy no matter what! Case closed!
And this is, of course, unmitigated bullshit in its purest form. First of all, there are only nine "outtakes" in the feature, and anybody who knows anything about photography knows that's an improbably tiny number of discarded shots. Secondly, I stand by my
earlier comment
that this is the kind of revenge Bachmann should expect when she constantly bashes the press. And finally, I've seen loads of pictures (
so you don't have to!
) of Michele Bachmann, and there are plenty of them where she looks quite convincingly like a totally normal person.
Newsweek should stand tall! They should just shrug and say, "Why yes, we are desperate for attention and so we used a particularly nutty picture of this lady because she is a particularly nutty subject, and it's funny, so there."
It's all OK though, because the photos are great. I mean, look at her. Look at Michele! She is
terrified
of that coffee table.
Plus, anybody who wears those shoes with that suit is obviously off her rocker.