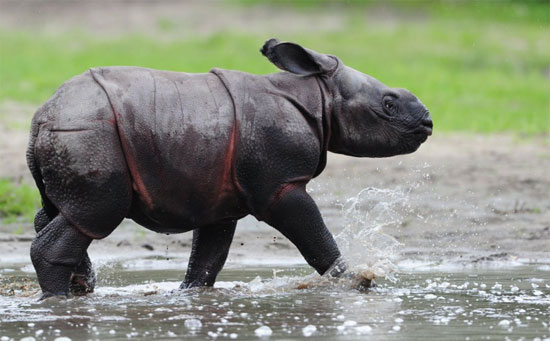 An Indian rhinoceros cub takes a bath in a mud hole at the Tierpark Zoo in August 5, 2011 in Berlin. JOHANNES EISELE/AFP/Getty Images
Ugh, OK, so last night I endured some kind of terrible food-poisoning event. This morning the first thing I saw was that horrible picture of Michele Bachmann, and it basically started my body's involuntary purge cycle all over again, so I've got to push it down the page a little bit. Blecccch.
Speaking of Bachmann,
Newsweek
's
cover story
is now up for your reading... pleasure? It's not very pleasurable at all, truth be told, because it is so basic, like it's intended for people who have never heard of Bachmann. The author, Lois Romano, mentions controversies without describing them, and it's just
Tea Party Tea Party blah blah blah
. The article features no insights, no analysis, nothing new or noteworthy at all.
I believe the cover photo says much more about Michele than the actual story it purports to represent, like the former wrote a check the latter was too embarrassed to cash. Too bad.
Cute baby rhino, though, right?
UPDATE:
The New Yorker
has a much, much better
Bachmann profile
up today. This one is everything the Newsweek story should be, but isn't.