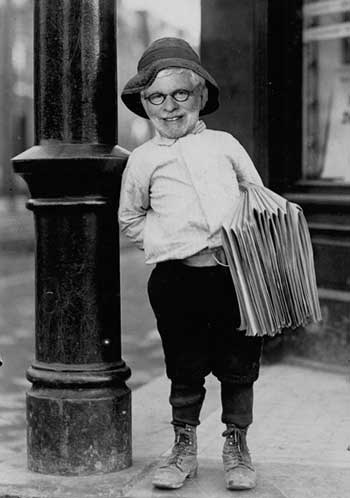 This week's
Richard Cohen column
isn't really all that interesting or annoying, but it's great because it gives us another glimpse of Li'l Dicky, the hapless child who would one day grow up and attend
fabulous cocktail parties
, have
an affair
with Peter Jenning's wife, and think that
torture is OK
as long as the torturers' hearts are in the right place. When we last encountered Li'l Dicky, he got
punched in the face
and we all understood that the puncher's heart was
totally
in the right place. This time, Li'l Dicky falls prey to one of natures most pernicious forces, the shallow puddle:
When I was around 12, I was a paperboy for the now-defunct Long Island Press. One Thursday, when the paper was heavy with shopping inserts, a storm hit, and my papers and I wound up in a puddle. My customers would not pay for a paper not delivered, and the Press insisted on billing for those I had received. The CFO of my company, a.k.a. my father, took one look at my books and pronounced me bankrupt. He would say the same thing about General Motors and Chrysler.
And, therefore,
THEY MUST PAY
.
But here's the real question: wasn't Cohen
Père
really to blame? Shouldn't he have realized that his hapless offspring was incapable of delivering the paper through such treacherous terrain? Once again, labor takes the fall for an executive's lack of responsible oversight. And just like that, we've come to the opposite conclusion of what Cohen intended. I think. But then again, I never really understand what he's trying to say:
Here I must introduce Tim Geithner, the hapless-cum-brilliant secretary of the Treasury. He not only proves that conventional wisdom is a half-truth but that in certain matters, it is best to be first. Geithner got confirmed by the Senate even though he had failed to pay some taxes; Tom Daschle later had to withdraw his Cabinet nomination for a similar offense. As always, timing is everything.
Wait...
what?
Can any of you make sense of that?
If I wrote a paragraph that senseless, my father would totally take my newspaper job away from me. So, sorry Richard, I'm siding with Pops.