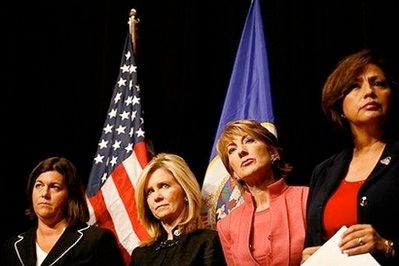 (L to R) Former Acting Massachusetts Gov. Jane Swift, US Rep. Marsha Blackburn, Carly Fiorina, an advisor US Sen. John McCain, and former US Treasurer Rosario Marin attend a press conference in St. Paul, Minnesota. Republican women leaders Wednesday leapt to the defense of under fire vice-presidential pick Sarah Palin, saying she had been the victim of unfair and sexist attacks. (AFP/Getty Images/Max Whittaker)
So fun! So anyway, like a lot of you (I'm assuming), I was kinda looking forward to Sarah Palin performing terribly tonight. Would you believe that it took a person from Kos, of all places, to set me straight? To wit:
But the reality is that you should expect not just a polished presentation from Palin tonight, but a stellar performance. Remember, this is someone who started out not only as a pageant contestant, but as an on-air personality for the local television station.
The piece goes on to remind us of GOPAC, something I totally forgot about, and how Palin is totally a GOPAC girl. Seriously, it's really interesting, so I'm actually
sending you to Kos
to read it, OK? I know, right?
But here's the thing: even if she reads it really well, it still might be (will probably be) a badly written speech.
What happened to the GOP? Didn't they used to be slick? Hasn't this last week been kinda badly done?