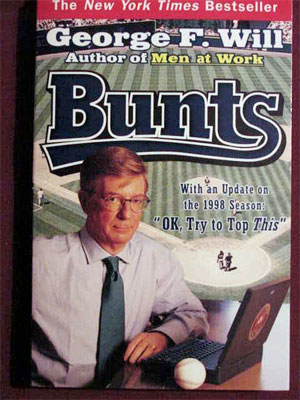 Ha, ha!
This
is twisted logic even by Will's standards. And then he tries to compare Sarah Palin to James Madison*! Please tell me if you can make sense of this:
In his Denver speech, Barack Obama derided the "discredited Republican philosophy" that he caricatured in four words -- "you're on your own." Then he promised to "keep . . . our toys safe." Among the four candidates for national office, perhaps only Palin might give a Madisonian answer -- one cognizant of the idea that the federal government's powers are limited because they are enumerated -- if asked to identify any provision of the Constitution, other than the First Amendment, that imposes meaningful limits on congressional or executive authority to act.

If so, she would be a good influence on Washington, including McCain. But is there any evidence that she has thought about such matters? McCain's selection of her is applied McCainism -- a visceral judgment by one who is confidently righteous. But the viscera are not the seat of wisdom.
Wait... what?
*James Madison! The man who
said
, "An alliance or coalition between government and religion cannot be too carefully guarded against." That James Madison.