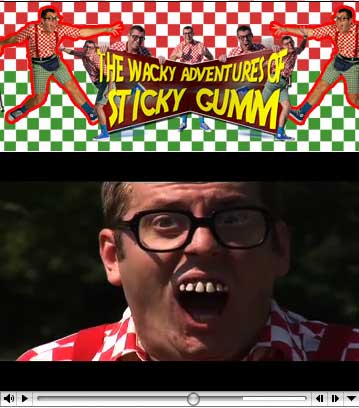 Thrillingly real! OK, so I know I have a tendency to speak in superlatives, but the AFA's new series for children really is the most creepily moronic thing I've seen in years.
Meet
Sticky Gumm
, an apparently retarded child with Progeria, his cross-dressing "mother" and the ambiguously gay rangers (seriously... wtf?) who invade their lives, causing slow-moving hijinx and moronic pratfalls galore. I'm not sure if Jesus ends up joining this disturbing ménage à quatre, but I'm guessing yes. Seriously, this stuff makes Barney the Dinosaur look like Voltaire.
OK, I totally know it's controversial to use this word in the following context, but this is all just so...
gay.


By all means click on the link and see for yourself that often the 'real thing' is way,
way
weirder than anything a satirist could invent.