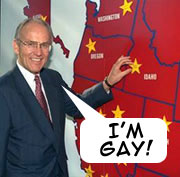 Ah yes, Mike Rogers didn't disappoint with his promised outing today. Unfortunately, the outed penis fan is an obscure senator, but it's hard to be disappointed when any Republican with a spotless record of anti-gay public sentaments gets
dragged from the closet
.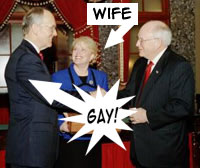 He's got a 0%
rating
from NARAL and a 100% rating from the Christian Coalition (this may change shortly) ...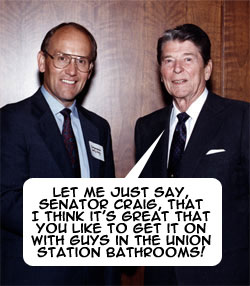 ... and he allegedly enjoys either giving or receiving blow jobs and/or handjobs in the Union Station restrooms. Larry, Larry, Larry... it's always hotter when it's risky, right?
Oops.
UPDATE: Here is Craig's
first denial
. This story, oddly, seems to have no traction at all. What if you outed a Republican senator and nobody cared? Does it still make a sound (from the bathroom stall)?