Secretary of State Condoleezza Rice, right, swears in Mark A. Dybul, left, as the new coordinator of the U.S. Global AIDS Office during a ceremony at the State Department in Washington, Tuesday, Oct. 10, 2006. From left are, Dybul, First lady Laura Bush, Dybul's partner, Jason Claire, and Rice. REUTERS/Yuri Gripas (UNITED STATES)
Hmm, I can't help but notice, poring over the pictures from this event, that male Bushies are conspicuously absent from this photo-op. Even (perhaps especially) Josh Bolten! I wonder where they all were for this happy occasion? I bet they totally got stuck in traffic.
Also, notice who the snapper is? Yes! It's sparklefave Yuri Gripas, Condirazzi sublime and winner of the prestigious
Sparkle Pony Iron Photo-opographer Challenge
. Well, you all know that Yuri never lets us down, and always comes up with a shot so special, so magically wonderful, that it'll sate even the most insistent Condicravings for days. And today was no exception. Prepare yourself for a photograph so utterly beautiful that you'll burst into tears of joy. Scroll down when you're sure you've properly prepared yourself:
.
.
.
.
.
.
.
.
.
.
.
.
.
.
.
.
.
.
.
.
.
.
.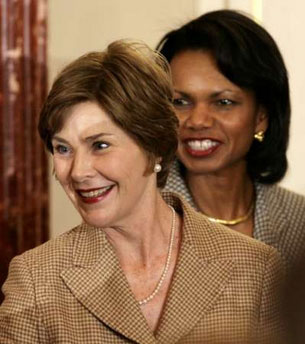 A thing of beauty is a joy forever: it's loveliness increases;
it will never pass into nothingness. (Keats)
Oh, what a glorious tribute to two classy ladies! *sniff*