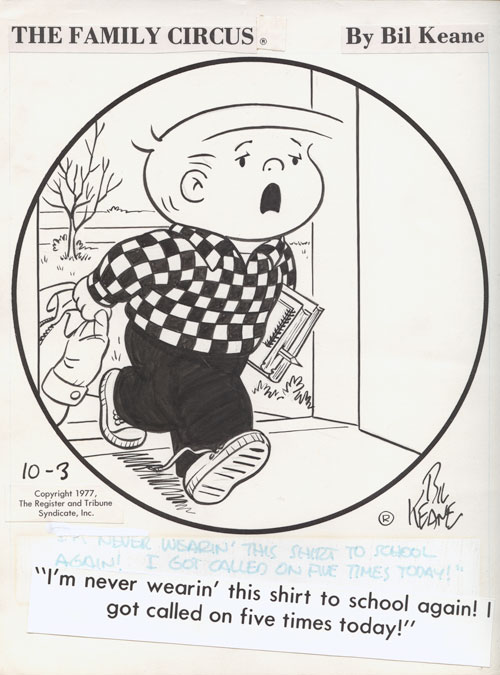 (Click for HUGE file. It is impressive.)
Today's selection from my collection of comic strip art is the original drawing for a 1977
Family Circus
panel by Bil Keane, executed in graphite, pen, brush, and ink with blue pencil and paste-up on a 8.75" x 11.5" illustration board.
I have a complicated relationship with Family Circus (DON'T WE ALL?). It was one of my favorites when I was very young, right up there with
Nancy
and
Peanuts
. As I grew older, I hated it more and more. It was so corny! So obvious! Later, as I moved into my "ironic" phase, I loved it all over again for its idiosyncrasies and... well,
because
it was so corny and obvious.
Today, in my post-ironic phase, I can't say I
love
Family Circus, but it never fails to impress and even fascinate me. Yes, it is idiosyncratic (why are the kids always drawn with only one nostril?), corny, obvious, and sometimes downright bizarre, but it's also a fantastically well-crafted feature cunningly targeted at two groups which don't generally share tastes in anything: the very young and the very old.
I don't have much to say about the quality of this drawing. It's perfect. That is a solid figure, weighty and logically constructed, and the setting is carefully laid out and rendered with an architect's exactitude. The pattern of the shirt is skilfully and convincingly wrapped around the figure.
What really impresses me is Keane's masterful ability to compose in a circle, a deceptively easy task. The figure is a perfect little "x" shape, and it has been given bold, solid blacks to make it stand out. Rather than placing the figure in the exact middle of the circle, Keane shifts it a little to the left and then balances it on the right with the vertical of the doorway. Then everything is locked in place with further simple horizontals and diagonals. This minimalist but intricate interplay of shapes and forms creates a stable composition which does not "roll," as unsuccessful circular works tend to do. Despite all the carefulness and precision, the whole thing comes across as uncluttered and effortless.
Let's look at some other famous, successful circular compositions. First up is the
Adoration of the Magi
tondo by Fra Angelico and Fra Filippo Lippi from the mid-15th century: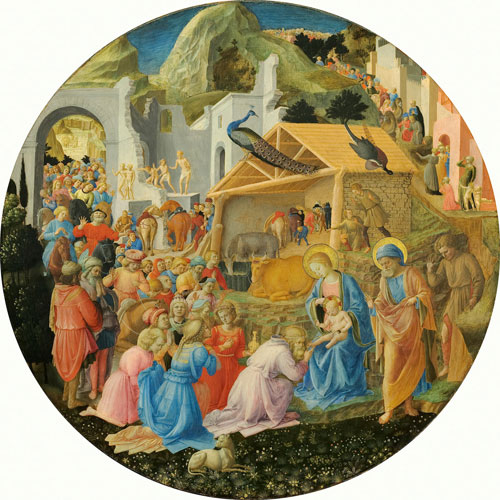 (Image
courtesy
the National Gallery of Art, Washington. Click for bigger.)
The good brothers Lippi and Angelico fill their circle by... filling their circle, packing it full of figures and structures which get denser and larger towards the bottom, an almost
Weeble
-like effect. Within this general scheme, though, there's a lot of push and pull: the figures, interestingly, are placed on a diagonal ground-line, and this is wonderfully balanced by the opposing diagonal of the procession of figures in the upper right. And then all throughout the rest of the picture there are countless little opposing diagonals, horizontals, and verticals, almost like cane seating.
Next is Michelangelo's mirthless Doni Tondo from the Uffizi, ca. 1507: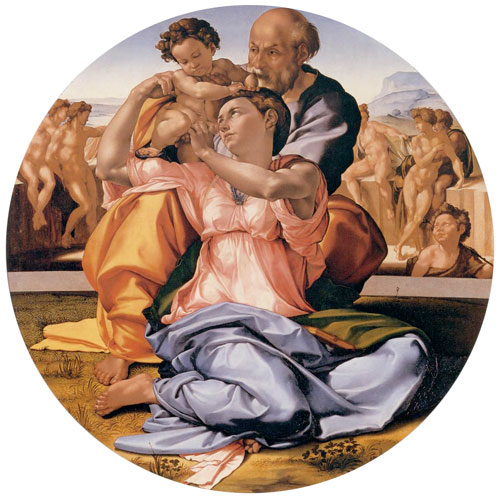 (Image
via
. Click for bigger.)
Talk about effortful! Michelangelo locks down his circle with a wide horizontal strip of figures and a ledge broken by an even wider vertical tower of figures, anchored by the equilateral pyramid of the Madonna. There's simply not much happening in the upper and lower left and right. What's really interesting is how the artist uses the illusionistic depth axis (the passage of the child from Joseph to Mary) to further stabilize the composition.
But the ultimate circular painting of the Renaissance has got to be Raphael's sublime Alba Madonna, ca. 1510: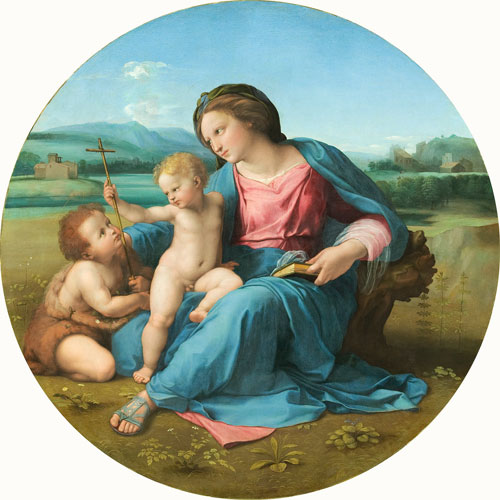 (Image
courtesy
the National Gallery of Art, Washington. Click for bigger.)
What a contrast! Here, everything is breezy and, compared to Michelangelo, nothing seems belabored. Nothing is symmetrical but everything is balanced. Whole volumes could be written on the perfection of this composition, and frankly, I'm not worthy.
And finally, one of the 20th century's greatest compositional masters, Roy Lichtenstein, takes on the circle in one of his great Mirror prints: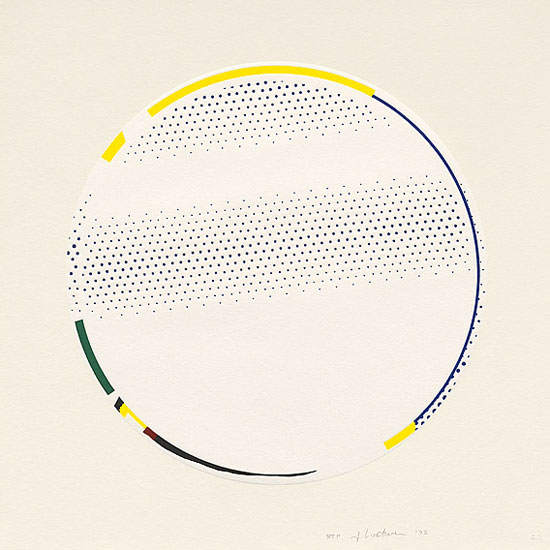 (Image
via
National Gallery of Australia)
Before this gets too ridiculous (this was supposed to be about
Family Circus
!), suffice it to say that making art in a circle is tricky, and it takes a great artist to master it, and for that alone Bil Keane, who did it perfectly day after day after day for decades, deserves our respect.
Otherwise, LOL, what's up with that shirt? Are you kidding me?