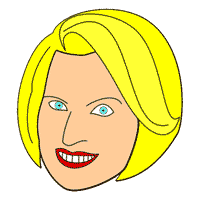 Now that's more like it! Reuters just published
a great story
about Herr and Frau Gingrich. It turns out that all of their weird businesses, the so-called non-profits, the healthcare lobbying shop... they've all gone tits-up. All of them, that is, except for Gingrich Productions, which is owned by... Callista!
So that's that for Newt's political career. He's broke. His PAC is broke. His campaign owes zillions of dollars to everybody. But Gingrich Productions lives on! So Almighty Goddess Callista will continue to make weird videos about the Pope and American Exceptionalism, and she'll probably continue her children's publishing endeavors with the unfortunate and disturbing Ellis the Elephant. And Newt? He'll just be a staffer.
So next time they're in Tiffany's looking at fab baubles? Callista will be doing the buying. And isn't that the way it should be?