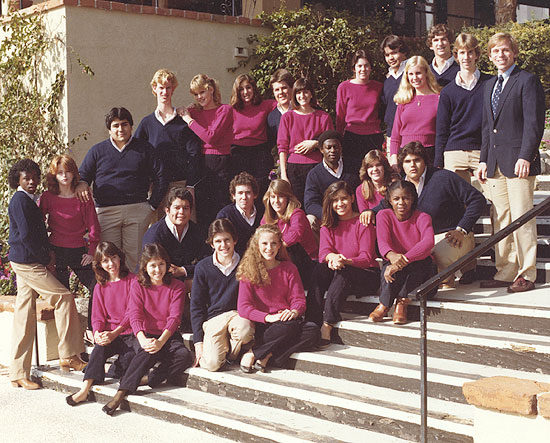 (Tucson High School "Troubadours" vocal ensemble, 1983, at the Temple of Music and Art. The following year, my
teen prank garage band
played at the same location.)
I was a "choir kid" in high school (see above). It wasn't like
Glee
or anything; we just stood there in our sweaters and sang (although we
did
put on a musical every year, a painful ordeal for all involved).
Anybody who was ever involved in anything in high school knows all about field trips to other parts of the state for various reasons, and choir was no different: there were competitions, all-state events, regional meet-ups, etc. Since the major cities of Arizona are far apart (it's a big state!), multiple day happenings always involved staying with host families arranged through the local schools participating in the events.
Now keep in mind that I'm from Tucson, and also keep in mind this unscientific, totally unfair yet basically accurate infographic about Arizona:
Every time we headed north, and particularly when we made trips to Flagstaff or Mesa, there was a certain detail about our staying with host families that had to be discussed, the fact that Mormon households were especially enthusiastic about signing up to be hosts. "Many of you," we were told, "will be staying [dramatic pause] with LDS families." Those who had been through the ordeal groaned, while the newbies looked puzzled. "Be prepared."
Be prepared for what? To be
worked
. If you stayed with an LDS host family, you were treated to a non-stop festival of Mormonism, abounding with special "youth activities" which
just happened
to be scheduled while you were visiting. Meanwhile, the rest of us were attending totally fantastic teen keg parties. The ones I went to in Flagstaff, huge raucous bonfires in the woods, were the best parties I went to in high school.
The next day, the lucky ones were bleary-eyed, partied-out, and bursting with gossip as we recounted our nights and compared injuries.
"How was
your
night?" we'd taunt our less fortunate mates as they struggled with their armloads of LDS pamphlets and cassettes, and they would invariably erupt in a kind of post-traumatic, un-Mormon Tourette's syndrome. "
Fuck! Shit! Asshole! Fuck! Fuck!
" they would shriek while desperately chugging forbidden Coca Cola and unbuttoning their blouses. Then, offended, any nearby Mormon teens would stand up
en masse
and silently move away from our corruptive vulgarity.
Good times!
I was never parked with a Mormon family. I have a sneaking suspicion that event organizers probably arranged for that. I was, after all, an outspoken atheist and a punk rocker with a penchant for Flock of Seagulls hairdos and garish parodies of resort wear. I also think I was one of those kids who everybody knew was a hairdresser before I did (
right?
). So I guess in those cases, that worked to my advantage!
So anyway, call me a bigot if you must, because I've heard that it's now chic to pretend that the Church of Latter Day Saints
®
is not a singularly obnoxious, frequently ludicrous mutation of Christianity, which is obnoxious and ludicrous enough to begin with, but that's my mean-spirited Mormon story of the day.