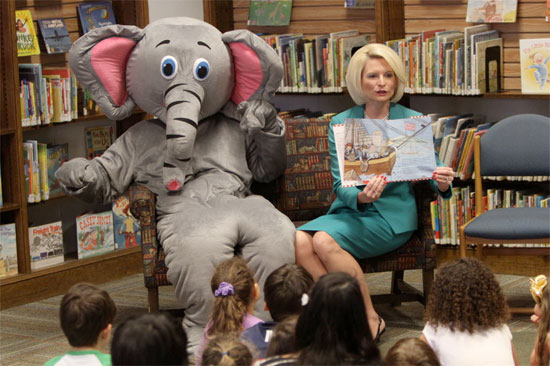 (Providence Journal photo / Steve Szydlowski)
There's the Goddess Callista
earlier today
, once again in the ill-advised company of the terrible elephant furry which doesn't even resemble the character in her earnest, dull book. Can you imagine how bored those kids were?
And, seriously, imagine what it would be like to wake up one morning and BE the staffer who knows that later that day, s/he would have to don a clammy, padded nylon ersatz elephant skin and then sit in a chair while Callista drones through Sweet Land of Liberty for the umpteenth time.
But this... this is how the Gingrich campaign is spending its time these days, by sending Callista to elementary schools and
tiny college Republican club meetings
in Rhode Island. It's almost like our beloved Moon Goddess, once at Newt's side at every stop, has become the "Where's Waldo?" of the 2012 campaign. Fun!
By the way, did you know that they have
a great flickr feed
? Yeah, me neither. It's brimming with fab Callistapix!
Her hairdo is just a little longer, a little looser, less spherical; she needs to tighten that coiffure up!
Oh, right, and Newt got
bitten by a penguin
, which proves that the best jokes are the obscure ones that don't have to have punchlines.