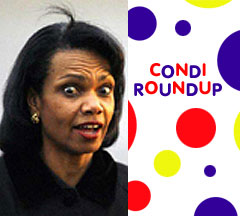 Several Pony Pals have emailed me about
the new CNN poll
which shows, once again, that Republicans really, really want Condoleezza Rice to fill their lame presidential candidate's veep slot. These same Pony Pals know, of course, that this will never happen because 1. it will never happen, and 2. seriously, not in a million years. But if this is to follow the usual Condi Veep Rumors template, expect endless, unfounded speculation and typical Condi denials to follow, which then everybody will ignore so that they can get back to their wistful speculation.
That Condi, such a heartbreaker!
UPDATE:
Here
is the (latest) denial:
In a question-and-answer session following her speech at Harding University here, Rice said she would not be Mitt Romney's running mate. "Thank you for that enthusiastic response, but no," she said.
This will dispel all those Condi Veep Rumors! Until the next ones!