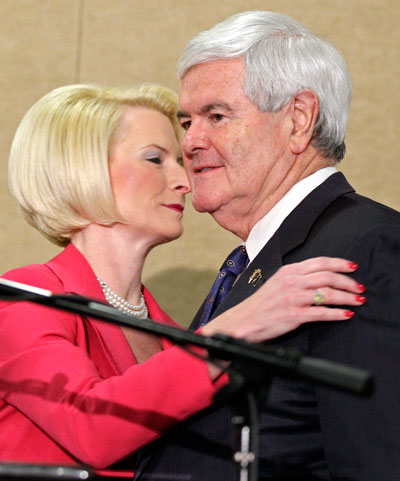 Republican presidential candidate, former House Speaker Newt Gingrich, right, is embraced by his wife Callista, left, before speaking to supporters at an election rally in Concord, N.C., Tuesday, April 24, 2012. (AP Photo/Chuck Burton)
Oh, Callie, your hairdo looks so much better now! It's freshly spherical again after looking all droopy lately, and dyed back to the stunningly naturalistic blonde we've come to expect from such a goddess. Yay!
Too little, too late, however, because Newt –surprise!– lost, like, twenty primaries yesterday to... a Mormon! LOL.
And it really has been the most puzzling campaign ever. I guess I can understand why Newt hung in there, because the whole point of his run has been to publicize himself. Now, when Mitt Romney loses, he'll be able to say, "I tried, I tried," and dummies will say, "If only we had nominated the REAL conservative, Newt!" And thus the right wing cycle of delusion will continue, and so will Newt 'n' Callista's lucrative speaking engagements and book deals and weird Papal videos and audiobooks about American Exceptionalism™. So they might seem like losers today, but all this should keep our beloved Space Goddess in Tiffany for quite some time.
What I can't figure out, though, is what Sheldon Adelson and his wife get out of all this. Mrs. Adelson gave, like, five more millions dollars to Team Newt just last month, when it was already obvious to everyone that Gingrich 2012 just wasn't going to happen. Why did she do it? Did she find five million dollars in the couch, shrug, and hand it over? What, exactly, did she purchase? I'm bewildered.
But anyway, eventually Newt will die first, and then the Goddess Callista will be up for grabs! And then she and Ellis the bulgy-crotched elephant will ride off together into the sunset with enough diamonds and pearls to keep them living luxuriously until Jesus returns. It's like a fairy tale!
Until then, thanks for the beautiful memories: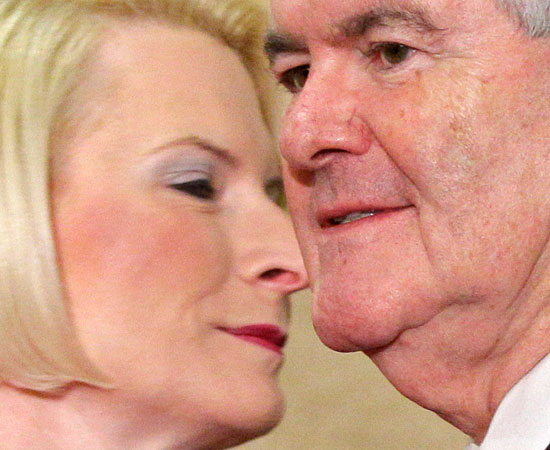 The tenderness!