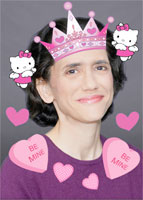 This is rich: PSP girlfriend Jennifer Rubin noticed that a bunch of Republicans are unhappy that Mitt Romney hired a hairdresser, and so, startled, she decided that it's finally time, in 2012, to
ever-so-gently suggest
that –hold on to your hats!– the GOP might be homophobic, and this might be a problem. Revelation!
This from the woman who never said a bad thing about Rick Santorum until this year.
Also, Jen, if you're going to call out gay bashers, you may wish to start with... Mitt Romney, who gave tons of money directly to the National Organization for Marriage, and who knows how much indirectly through his tithing to the Church of Latter Day Saints. One wonders, too, if Ms. Rubin is prepared to "take on" the intense, insane homophobia
spouted by Orthodox Jewish leaders
. Something tells me she may just avoid that issue.
So is Jennifer Rubin going to become a crusader for gay rights? LOL, no. Keep in mind that she's not denouncing homophobia to defend gays, she denouncing homophobia to defend Mitt Romney.
But I love Jen's inane post anyway, not because I believe it's all that sincere, but because it's yet another example of the battle within the GOP: Neocons and "paleoconservatives" on one side, and nutball religious fundamentalists on the other. It's my favorite spectator sport.