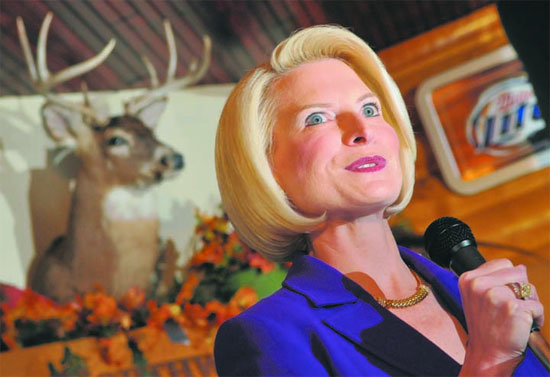 Callista Gingrich, wife of Republican presidential candidate Newt Gingrich, poses with her mother, Bernita Bisek of Whitehall, during a gathering of supporters Monday night at Northwoods Brewpub and Grill in Eau Claire. Photo: Shane Opatz, Leader-Telegram.
Wait, Callista's mother is a mounted stag head?* I was worried, after the Goddess Callista
polled badly
, that Team Newt would yank her off the campaign trail. As you can see above, they didn't, but maybe they should have? Pure terror. There's a
whole gallery
of photos to enjoy!
*I guess this has something to do with her being the Moon Goddess, like Diana!