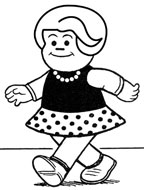 Oh dear. Beloved Moon Goddess Callista Gingrich may be popular here, but outside of the glittering Sparkle Corral? I'm afraid the answer is that the more people know her, the less they like what they see. Public Policy Polling (PDF
here
) finally got around to asking American voters about the things that really matter: Mitt Romney's dog, if they feel Obama would be a good president for dogs, proper transport for dogs, and... candidates' wives! Dogs and women, women and dogs... whatever.
But Callista! Oh, Cally-Lou! 38% of the respondents are "not sure" if they have a favorable impression of their next first lady. 44% have gazed upon the Platinum Space Helmet and found it wanting. Only 18% (Pony Pals™ all, I'm assuming) are Callistafans.
Tsk. So much for "unleashing" (don't blame me for pushing the metaphor; it's the
Gingrich campaign's words
) Callista. Back in the kennel, girl!
Ha ha ha...
women and dogs
. What a world!