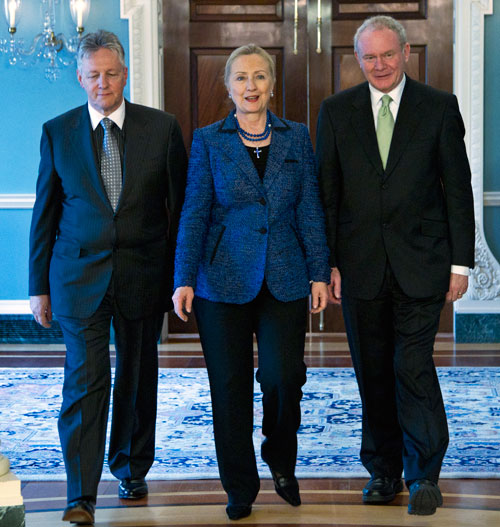 Secretary of State Hillary Rodham Clinton, flanked by Northern Ireland's First Minister Peter Robinson, left, and Deputy First Minister Martin McGuiness, right, walk toward the Treaty Room of the State Department in Washington, Monday, March 19, 2012, prior to their meeitng. (AP Photo/Manuel Balce Ceneta)
I really don't pay much attention to the State Dept. since Condi left. It was, like,
that's totally enough of that
.
But this picture from Hillary's day jumped out at me this afternoon. Hillary looks fine, maybe a little frowsy, but she wearing a fab ultra-nubby blue tweed coat matched nicely with some expensive-looking lapis jewelry. And thank goodness she got rid of that ridiculous flip hairdo.
No, my problem is with First Minister Robinson. What on earth is he wearing? This is so bad: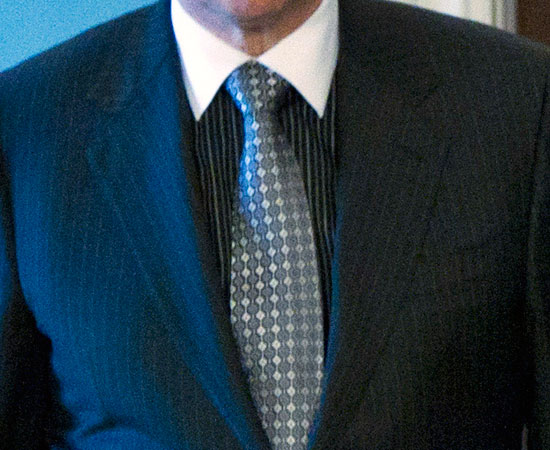 I'm going to be charitable and assume that he's still hung over from St. Patrick's day.