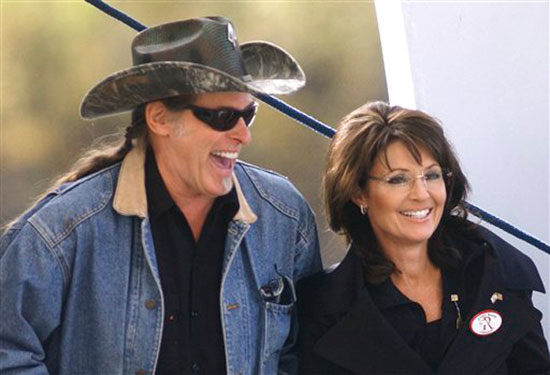 Every once in a while I visit the
Washington Times
to see what's up. This morning I was treated to a
column by Ted Nugent
where he lectures Morgan Freeman about how Morgan Freeman is the real racist for saying that other people are racists, and there's nothing more racist than that, OK? OK. This statement really jumped out at me:
If Mr. Freeman could further remove his racist blinders and study the historical condition of black America, he would find the black community was vibrant and strong 60 years ago. This is not the case today.
60 years ago? What a strange number to use. So Nugent is pointing towards the early 1950s as some sort of Golden Age for African Americans. Obviously Nugent wouldn't say "50 years ago," because slight civil rights gains had already been made by the early 1960s.
But there you have it, blacks! Morgan Freeman, you should take off your racist blinders and realize just how great it was to have your own special section, for instance, on public transportation and at (some) lunch counters. There were special drinking fountains and bathrooms and sections of (some) parks set aside
just for you!
Oh, you had it
so good
back then! Until, that is, unsatisfied complainers like Rosa Parks, the Greensboro Four, and Martin Luther King, Jr. came along and ruined everything. Tsk.
So if anybody comes up to you today and says, "Hey, could you summarize Ted Nugent's latest column?" here are your bullet points:
Racism in the Tea Party is not the problem; racism in Morgan Freeman is the problem.
African Americans were better off before the civil rights era.
African American culture today is neither vibrant nor strong.