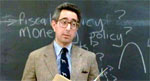 Over at Andrew Sullivan's place, they've been going back 'n' forth about, you know, "What is a real conservative?" and all that. This is one of Sully's big preoccupations since forever, of course. But today one of his readers
wrote in
and provided compelling evidence of exactly why these Conservative Intellectuals (almost an oxymoron, I know) are so sidelined these days:
A reader writes:

Just a reminder of Oakeshott's view of Burke, from "On Being Conservative":

"And, in my opinion, there is more to be learnt about this disposition from Montaigne, Pascal, Hobbes and Hume than from Burke or Bentham."

And, furthermore, let us recall that Hayek rejected the term conservative. See his essay titled ..."Why I am not a Conservative."
Who talks like that?* 9 arcane academic references in one short note! My response to this is, basically, "Ajklfjsiohdiofhiodsklnglha." Seriously, can you imagine going up to some Mississippi tea partier and saying that to his face and expecting him to know what the hell you are talking about, much less respond to it?
*To be fair, lefty Matthew Yglesias talks like that all that time, too. Then again, nobody listens to him, either.