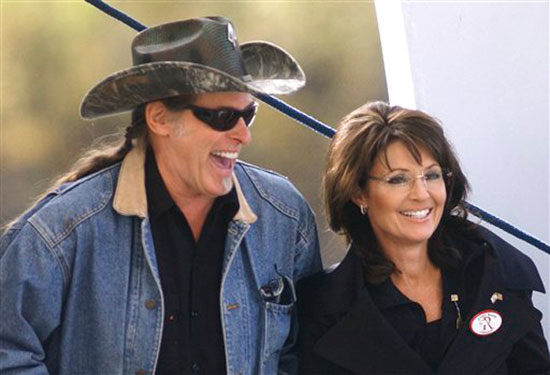 Rocker Ted Nugent and Sarah Palin laugh before a rally for Republican senate candidate John Raese at Haddad Riverfront Park in Charleston, W.Va., on Saturday, Oct. 30, 2010. (AP Photo/Jon C. Hancock)
Isn't she something? In just the past few days, Sarah Palin has launched frenzied feuds with CBS for saying mean things about Joe Miller, with NPR for firing whats-his-name, with some other radio station for some other reason (sorry, it's hard to keep up), and now with Politico with saying mean things about her. Doesn't the lamestream media know that to be truly unbiased, they must always say nice things about Sarah Palin and her friends? It's in the Constitution!
Lashing out at Politico, however, is truly odd. Yes, they wrote two unflattering long things about Palin over the past week (
This one
is about her being impossible to deal with, while
this one
is about all the old school Republicans hating her), but Sarah! Sarah, Sarah, Sarah! Politico is SO your friend! Basically, if you clean your glasses, Politico "reports" on it. Sarah, to paraphrase somebody you've never heard of, the only thing worse than Politico saying mean things about you is Politico saying nothing about you at all. You don't want them to stop breathlessly, exhaustively "reporting" your each and every Twitter twat and Facebook tantrum, do you? Haven't you heard Media Matters describe them as "basically a GOP bulletin board"?***
At the rate Sarah's going, she isn't going to have a friend left by the time she gets around to running for president. It's only a matter of time before she starts getting in fights with the
National Review
, Rush Limbaugh, the Beck guy, etc., etc., and then what? She thinks she's getting negative press now?
Girl, to paraphrase somebody you actually
have
heard of, but only vaguely, sometimes you just have to turn the other cheek.
***Whoa, off-topic grammar note! This is such a good example of when it's not only OK, but actually more correct to put the punctuation mark
outside
the quotation marks, something still controversial among elderly grammarians (like ending sentences with propositions, which I did, totally, like ten times in this post). The point is that Media Matters didn't describe Politico as "basically a GOP bulletin board?" but as "basically a GOP bulletin board." See how that works? Sometimes I think about these things!
UPDATE – Uh, oh, she had to bring puppies into it,
via the Daily Tucker
:
"I suppose I could play their immature, unprofessional, waste-of-time game, too, by claiming these reporters and politicos are homophobe, child molesting, tax evading, anti-dentite, puppy-kicking, chain smoking porn producers…really, they are… I've seen it myself…but I'll only give you the information off-the-record, on deep, deep background; attribute these 'facts' to an 'anonymous source' and I'll give you more."
Oh no, it sounds like a high school student is very angry! But Sarah! Don't use puppies! Puppies are
political poison
!