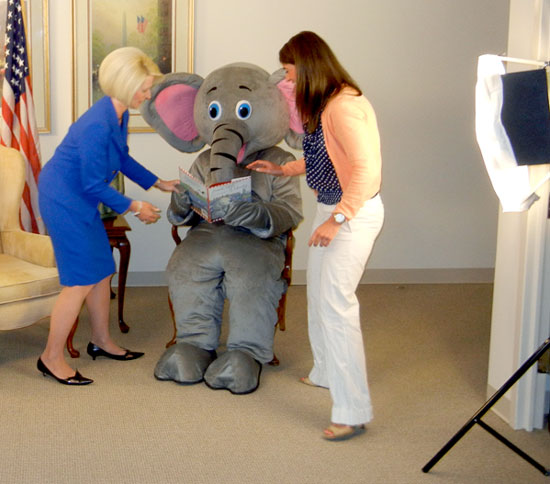 OK, well obviously that is one of my favorite awkward Callistapics ever. But now, fresh Callista product is upon us, her bland, maudlin
Sweet Land of Liberty
children's book, wherein Ellis the Elephant learns about American Exceptionalism 'n' such.
Basically, this book probably won't ever be joining
Where the Wild Things Are
or
One Fish, Two Fish, Red Fish, Blue Fish
on the children's classics shelf, but it may bear beautiful fruit nevertheless: Callista Gingrich
media appearances
! She's on Hannity tonight, so somebody will have to tell me how that turns out, and Fox and Friends tomorrow, so... well, so somebody will have to tell me how that turns out, too. From there it's a smattering of book signings at three chain stores, a tea party, a Republican Women's event, and... hey, how about that? A signing at a tiny book store in a tiny, humble Iowa city! I wonder if Newt might accompany her to that one?
My favorite thing so far is Callista
lamely claiming
that her kiddie book's protagonist just happens to be an elephant, and the fact that the Republican Party's symbol is an elephant is just a crazy coincidence. No connection was intended! To think otherwise would be crass.
UPDATE: I watched the Hannity thing online, and OMG it is boring. And once again Callista denies that Ellis is a Republican elephant. Sheer happenstance, people!
It seems like Callista is outright lying about Ellis the Elephant. In recent interviews, she claims it could have been any animal, but that they "came across this adorable elephant," which implies that she saw it in the artist's portfolio or something, or otherwise "stumbled upon it." But in
Publishers Weekly
's
article
about the book, the illustrator plainly says, "Callista Gingrich came up with the idea for Ellie the elephant."