Former House Speaker Newt Gingrich and his wife Callista grill pork chops as they visited the Iowa Pork Producers tent during a campaign stop at the Iowa State Fair in Des Moines, Iowa, Friday, Aug. 12, 2011. (AP Photo/Charles Dharapak)
One thing I love about things like the Iowa Republican Circus is that you get to see totally wonky urbanites like Newt 'n' Cally struggle to appear like
jes' folks
for the cameras. The Pork Tent™ was an irresistible photo-op-stop for all the candidates, and here we see a hilariously contrived scene of two Washington boutique media figures wearing branded aprons and pretending to prepare food. Other photos of the event show other candidates stepping up and flipping the pork for as long as it takes, presumably, for the Associated Press to record the moment.
The Denver Post has done us all a favor and rounded up the
best wire photos
of the fair. My favorite shot shows a circle of reporters creating with their cameras and microphones a sphincter from which Sarah Palin emerges: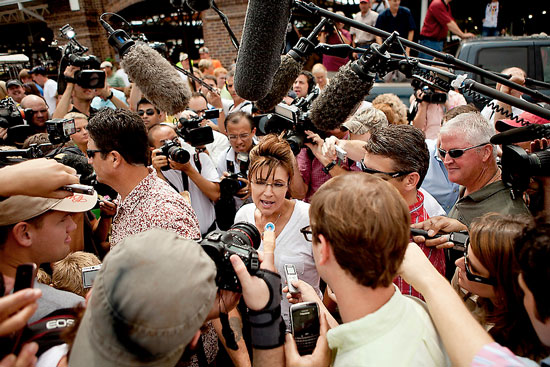 (Max Whittaker/The New York Times)
And, of course, Ugly Tour Bus Photoblogging – Michele Bachmann edition:
(Scott Olson/Getty Images)
UPDATE: Telegraph blogger Toby Harnden
captured
the most magical moment of all: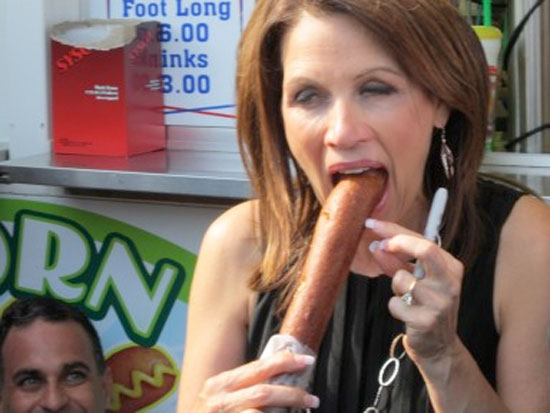 She then shoved her wiener in husbeard Marcus' face:
There you have it: a graphic depiction of the Bachmanns' sex life. What fun those two have!
UPDATE:
Over at Mediasnack
, Frances Martel, offended, asks of the humorous wiener pic, "Is This The Best Picture Of Rep. Bachmann Eating A Corn Dog The Telegraph Could Find?" My response to Ms. Martel is
how much better a picture of Michele Bachmann eating a corn dog do you want?
Or is necessary?