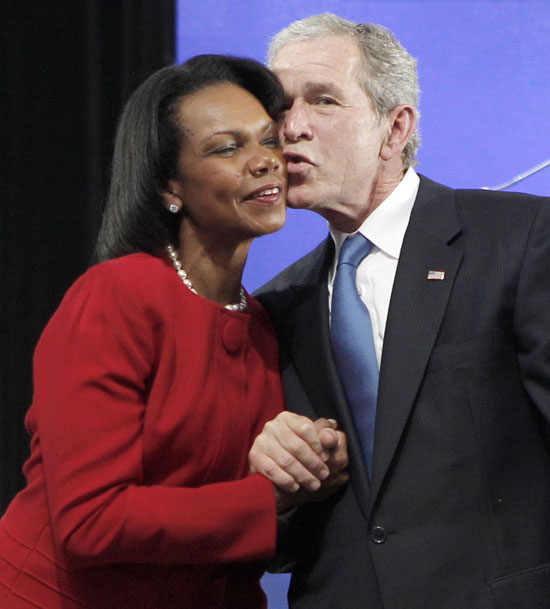 Former President George W. Bush, right, kisses former Secretary of State Condoleezza Rice during the ground breaking ceremony for the President George W. Bush Presidential Center in Dallas, Tuesday, Nov. 16, 2010. (AP Photo/LM Otero)
Last week I showed
a picture
(with no comment; I knew all of you would fill the gap) of cadaverous, horrifying Dick Cheney at the ground breaking ceremony for the George W. Bush
Propaganda
Presidential Center at SMU. It was frightening! This past weekend, however, I received a gentle tap on the shoulder from our most distinguished Pony Pal™, Georgetown University's
John Brown
, who basically said, "Aren't you ignoring some other terrible sights from this horror show?" And as you can see above, John's hideously correct. How could I have missed this rapturous, awful kiss? And
of course
Condi was there. She was one of the shovel wielders! Let's have a more focused look at this superb gross-out: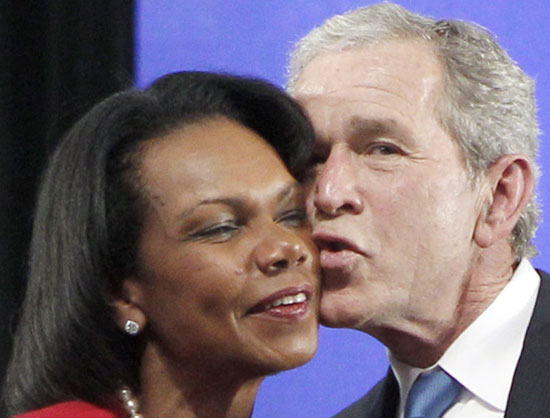 Ugh. My God. It looks like Bush is about to French Condi's nose. Barf. Here's something else: Condi and Crazy Eyes Laura were dressed nearly identically in their little red suits. What does it all mean?
As an aside, it seems like Condi's book basically sank without a trace. Oh, sure, it sold a ton of copies, as I predicted, but it never made the
NY Times
Bestsellers List and appears to have left no lasting marks upon the world. In this way, the book nicely symbolizes Condi's career: it made a good first impression, but accomplished nothing.
Speaking of good first impressions, here's my favorite photo from the ground breaking ceremony, also from the Associated Press. I can't for the life of me figure out why they released this wonderful photo, but I'm glad they did: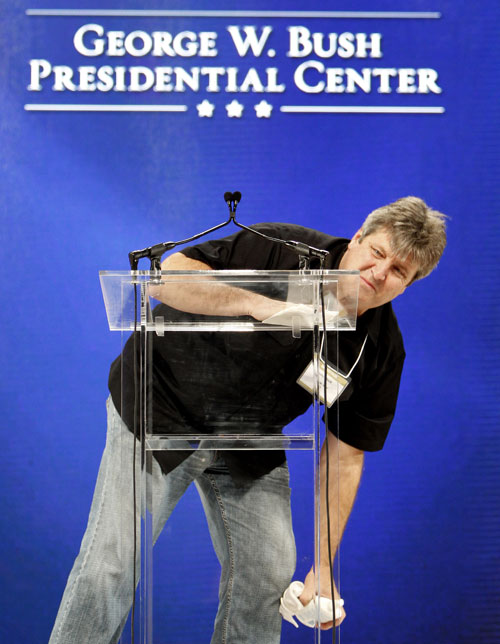 John Scott cleans the podium on the stage in preparation for the groundbreaking ceremony for the George W. Bush Presidential Center in Dallas, Tuesday, Nov. 16, 2010. (AP Photo/LM Otero)
Well done, Mr. Scott. I hope Cheney didn't get too much drool all over it.