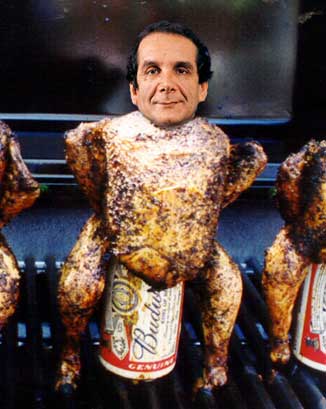 I meant to write about
this
this morning, but... well, honestly, I was a little grossed out by the whole thing. Charles Krauthammer simply no longer wants his junk to be touched. Not by you, not by anybody. And all this time I thought I really had a chance! Dang. Sayeth beer can butt:
Not quite the 18th-century elegance of "Don't Tread on Me," but the age of Twitter has a different cadence from the age of the musket. What the modern battle cry lacks in archaic charm, it makes up for in full-body syllabic punch.
Uh oh, here we go:
Don't touch my junk is the anthem of the modern man, the Tea Party patriot, the late-life libertarian, the midterm election voter. Don't touch my junk, Obamacare - get out of my doctor's examining room, I'm wearing a paper-thin gown slit down the back. Don't touch my junk, Google - Street View is cool, but get off my street. Don't touch my junk, you airport security goon - my package belongs to no one but me, and do you really think I'm a Nigerian nut job preparing for my 72-virgin orgy by blowing my johnson to kingdom come?
OK, OK! Enough! I, for one, plan to respect Mr. Krauthammer's wishes. Just one more hope of a lifetime dashed, I suppose.