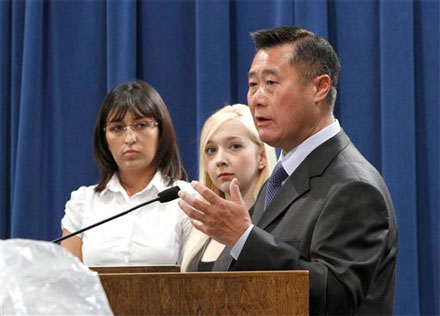 State Sen. Leland Yee, D-San Francisco, right, discusses the the documents related to a speaking contract for former Vice Presidential candidate Sarah Palin, found in the trash bins at California State University, Stanislaus, during a news conference in Sacramento, Calif., Tuesday, April 13, 2010. CSU, Stanislaus students Alicia Lewis, left and Ashli Briggs, right, say they were tipped off on April 9, about the the administration officials attempt to get rid of documents concerning Palin's speaking appearance with the CSU Stanislaus Foundation in June. (AP Photo/Rich Pedroncelli)
OK, this is kind of a Sarah Palin roundup. First of all, those young women shown in the picture up top? The ones who found Sarah Palin's speaking engagement contracts in the trash? They are heroes. Moving on.
In other news, Reid Wilson
at Hotline
caught something interesting and unsurprising in Sarah Palin's latest FEC filings: remember how she took a lot of heat for her six-figure payday to talk at the Tea Party convention and then claimed she'd donate it "to the cause"? Well, Wilson looked and looked and just couldn't seem to find any such donations. Revelation!
This has become a pattern for Palin: get caught being greedy and then make up a lie about giving what she grabbed to charity. We saw this last month when she went on her infamous
Oscars gifting suite rampage
: in one breath she claimed she was taking tie-dyed jeggings (urrrrgh) "for Bristol," and then immediately afterward lied and said it would all go to charity so that she wouldn't look like the avaricious pig that she is and forever will be.
And finally, yes, she spoke at some Tea Party™ thing in Boston today and wore red leather, so she's just wearing tons of leather lately even though it's Spring. The end.