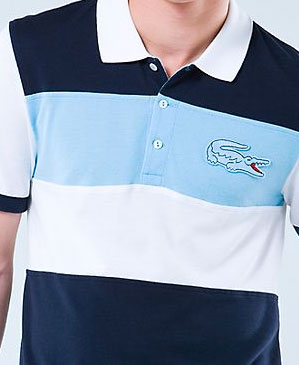 Danger! Danger! Do not let this garment touch your flesh!
Oh, god, no. Remember? It was just recently, we
banged our little gavels
and pronounced the Ralph Lauren Polo shirts with the supersized logos to be tasteless and unacceptable to wear with the sole exception that you need to wear one to blend in undercover amongst douchebags. And then we moved on to other topics (Sarah Palin, paintings of big-eyed puppies and kittens).
But, lo! Now
Lacoste is doing it too
, and it seems maybe twice as bad! Who in their right mind would sport that huge alligator? How is the universe going to correct this?