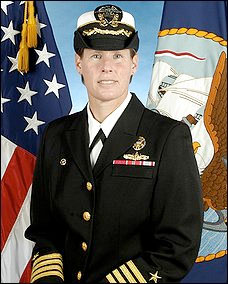 (AP)
You never know what you might stumble over on the interwebs. Like everybody else in Washington during the recent Snow Horror™, I bookmarked the Washington Post's "Federal Eye" to see if I had to go to work or not. Otherwise, it's the most boring part of their site. This weekend, though, they posted a
highly entertaining tale
of a Navy captain who got fired because, basically, she is just so totally bad-ass she makes all the sailors afraid:
Capt. Holly Graf, commander of the USS Cowpens, a guided-missile cruiser, was relieved of duty Jan. 13 after an investigation found she cursed so much at her 400-member crew that even the sailors -- no strangers to four-letter words -- were intimidated. According to the Navy inspector general's report released this week, officers complained that their captain humiliated them in front of the rest of the crew by calling them "idiots" and "stupid" as she spat a stream of obscenities. One noncommissioned officer said Graf treated him like a toddler, forcing him to take a "time out" by standing alone in an empty watch room.
Even better, the Post points to
militarycorruption.com
. They hate Capt. Graf so much, and with such cartoonish intensity, that you'll end up hating them, too, but OMG it's a hilarious Monday morning read. A sample:
In Graf's most famous, or infamous, incident, she did a "Captain Bligh" when she grabbed a male officer around the neck and started to squeeze. That is the ultimate NO-NO for any commander or boss. When you "put your hands on" a subordinate, it's end of the line for you, whether you're a senior chief petty officer or skipper of the boat. But instead of being forced to retire, "Horrible Holly," nick-named "The Sea H.A.G." by her many victims, got to stay in the Navy.

Not only did she escape real punishment, the wimpy leadership - and we mean YOU, Roughhead and Mullen - tried to pull a fast one recently and quietly slip her into a rear admiral's slot at AEGIS (BMD) in Virginia. After all, Holly "the special one," has a big sister who's already a flag officer. Her daddy is said to be a retired four-striper. This is one gal with "big-time connections."

Her most fierce proponents have been members of "The Sisterhood," a small but powerful group of lesbian senior officers at the Pentagon. To them, Holly can do no wrong. No woman "of their kind" can. And, if someone like Holly's criticized, well, that's "sexism," don't you know? Men are such chauvinists, anyway.
Oooh, a "powerful group of lesbian senior officers." HOTT.