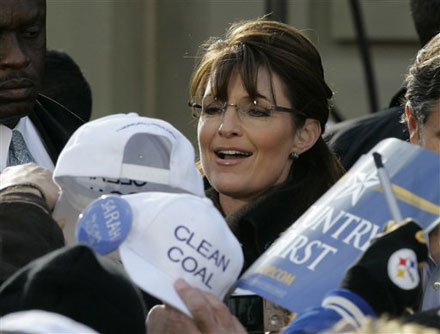 (AP Photo/Kiichiro Sato,
10-29-08
)
The Post's editorial page continues its downward spiral, and I'll be damned if I link to it. So they got Sarah Palin (she's so hot right now!) to write an op-ed about how awful Obama's cap-n-trade thingy is! Neat!
So... does anybody –anybody at all?– believe, even for a second, that Sarah actually wrote this stuff? One imagines the order for "standard industry boilerplate with a pseudo-folksy twist," but I'd love to know who placed/received the order. Sure, sure, there's the obligatory mentions of this "God" person, but I refuse to believe Sarah sat down behind a word processor and typed the word "ardent."
This must be some of that constant Palin-bashing by the Liberal Press™ all the kids are talking about.