Remember a while ago when I told you all to rush to Kmart and buy some
Abstinence Pants
? Since then, of course, we've all had our Abstinence Pants in a drawer, unworn, because we just never could find the perfect top to go with them (the "
Jesus Loves Porn Stars
" shirt clashed). Until now: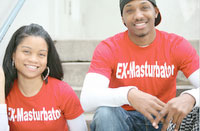 Other designs ("EX-fornicator", "EX-Diva", "EX-Homosexual", and my favorite, "EX-Rebel", etc.)
are available
! In multiple colors! What could possibly be a more positive statement than saying what you aren't? Plus, I think they're inconsistent application of capitalization is kicky! AND they're totally Helveticalicious.
In a way, they're pretty clever, because I can guarantee that wearing one of those shirts would work well to help maintain an abstinence regimen.
Don't you want one? You know you do.
Get one now
. (via Pony Pal
JoeMyGod
.)