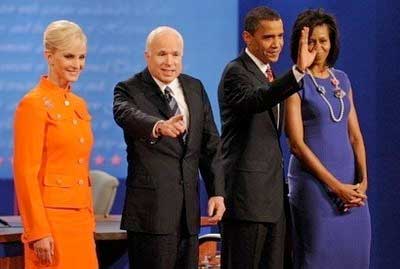 Democrat Barack Obama and his wife Michelle and Republican John McCain and his wife Cindy wave to the audience at the end of their third and final presidential debate in Hempstead, New York. McCain has gone for the jugular in his third and final debate with Obama as he sought to revive his flagging White House hopes. (AFP/Stan Honda)
Well, Cindy won the post-debate outfit display, anyway. Superb! Michelle looks lovely, of course, but girlfriend really knows how to ruin a beautiful dress with terrible button deployment, doesn't she? Oh, but that tangerine dream! Oh! So, so, so gorgeous, and with the perfect shoes:
As for Nasty McTwitchy? A lot of people have been trying to pinpoint the exact time when he lost the election. I've been contending it was when he tapped Palin that fateful Friday morning, but I'm now revising my estimate to say that the final, final nail in the coffin had something to do with
air quotes
last night.
Also, ha ha: Joe the Plumber? Apparently
not registered to vote
! UPDATE:
Yes he is
.