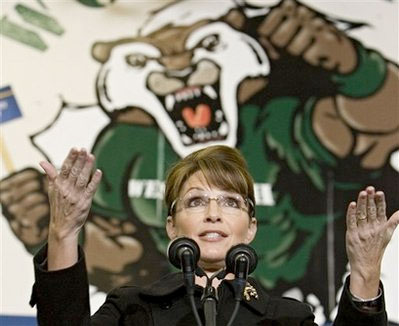 Republican vice presidential candidate, Alaska Gov. Sarah Palin, speaks in front of Wooly the Wolverine, the West High School mascot, during a campaign appearance in Sioux City, Iowa, Saturday, Oct. 25, 2008. (AP Photo/Nati Harnik)
Crazy eyes! Aw, things don't seem to be going so well for Sarah these days. Her approval ratings continue to sink, kids dislike her, women can't stand her, etc. And now she's even
bickering with the people trying to get her elected
:
"She's lost confidence in most of the people on the plane," said a senior Republican who speaks to Palin, referring to her campaign jet. He said Palin had begun to "go rogue" in some of her public pronouncements and decisions.

"I think she'd like to go more rogue," he said.
Sarah losing confidence in her handlers may be, in fact, the first glimmer of intelligence I've detected in her. As for going rogue? Oh, yes please! Let Sarah be Sarah! Yay!