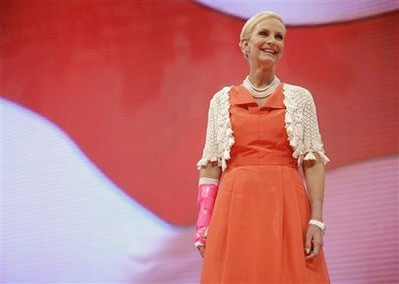 Cindy McCain, wife of Republican presidential candidate John McCain, appears on stage during a walk through of the Xcel Center where her husband will give his acceptance speech later during the Republican National Convention in St. Paul, Minn., Thursday, Sept. 4, 2008. (AP Photo/Jae C. Hong)
What's Cindy wearing today?* Now, before you get too harsh**, let's remember that this is her day-wear, and she will certainly change into something more fabulous this evening. But that said, I'm really not very impressed with this outfit. It almost seems like the McCain campaign suddenly became aware of how ridiculously rich Cindy always looks and asked her to scale it back a few decades. Is she trying to look like a 1950s sitcom wife here? Are they going to try to remake her as Audrey Meadows or something?
Maybe they were embarrassed by Vanity Fair, who just
tallied up the cost
of her sensational Hurricane speech ensemble and found that it probably cost somewhere in the neighborhood of $300,000 (!). But that tally is totally cheating because 90% of it is just the earrings(!!). No fair counting diamonds, guys! Also: what's a rich lady to do? Look frumpy? Please! She looks too fabulous? This is criticism?
Cindy never looks frumpy and she never has, as the LA Times thoughtfully reminded us today in a
superb retrospective
of Cindy's fab fashions. Seriously, this is just about the greatest thing I've seen in the Times in years. Best line: "She should wear floral-print, turquoise silk chiffon more often." Honey, we should
ALL
wear floral-print, turquoise silk chiffon more often.
*Gosh, what did I write about before getting so bedazzled with Lady Penelope? Wasn't there some other weird lady I used to write about? I can't seem to remember.
**Please remember: no excessively mean comments about Our Lady are permitted on this blog! This is a real rule!