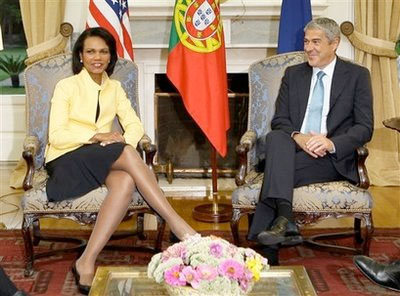 U.S. Secretary of State Condoleezza Rice meets with Portuguese Prime Minister Jose Socrates Thursday, Sept. 4 2008, at the Sao Bento palace in Lisbon, ahead of a trip to North Africa that will take her to Libya, Tunisia, Algeria and Morocco. (AP Photo/Armando Franca)
Oh, yeah, right... Condi! She's in Portugal and she's going to go to a bunch of other places, too! Not much to say other than to congratulate the Lisbons for executing a perfect Matching Armchairs Photo-Op™. It's lovely!
But OMG, I have to say that I can. not. wait. for Condi to meet Daffy! This'll be good.