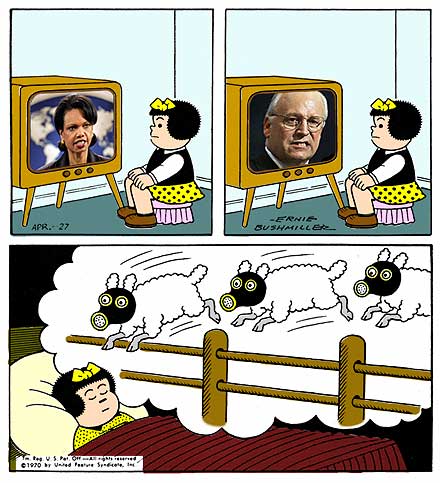 TV Week just released this
neat study
about, like, rating the pundits 'n' such. They asked bookers, producers, hosts, etc., and OMG, so mean to Condi! She goes out of her way to ruin a Sunday for them, and they say things like this:
In some cases, administration officials, some of them once highly sought-after as guests, now are seen as being on perpetual spin cycle for so long their cachet has been wrung dry.

And in some cases, the officials clearly are deliberately keeping their profiles low. Secretary of State Condoleezza Rice, said one newsmaker veteran, is laying so low, "She's under the rug in the living room."
Ha ha! Wow, is it just me, or are people starting to write accurately about Condi more and more often? Is the era of the Condi Puff Piece over?
OK, but back to TV Week's thing. Did America's Princess Diplomat win any of the individual categories in this Talking Head beauty pageant? Of course she did:

DOESN'T MAKE THE NEWS THEY PROBABLY SHOULD:

Leading vote-getter: Secretary of State Condoleezza Rice "never says anything." "Everybody got really tired of the spin."
Tired of the spin? Are they insane? Later, somebody also says she "just goes through life with talking points." Ungrateful! At least she gets her props for being chatty in the green room. Other humorous results:
UNDER THE MISTAKEN IMPRESSION THAT THEY ARE THE BIGGEST GET

Leading vote-getter: Sen. Charles Schumer, D-N.Y., long known for being drawn like a moth to the television spotlight.

THE HARDEST TO GET

Leading vote-getter: Vice President Dick Cheney. "He doesn't give a s***. He's checked out," said one respondent. "I don't know what he does all day," said another.