Secretary of State Condoleezza Rice, left, talks with National Security Adviser Stephen Hadley, right, as Deputy National Security Adviser for Regional Affairs Judith Ansley, center, looks on during President Bush's meeting with Poland's Prime Minister Donald Tusk, Monday, March 10, 2008, in the Oval Office of the White House in Washington. (AP Photo/Charles Dharapak)
Wow, it was a busy Monday in Condiland, a big triple photo-op extravaganza! It started off with one of the
Standing Around in the White House and Not Knowing What to Do with Our Hands
routine. And look! Condi is obviously conferring with her spherical, invisible friend! We haven't seen it in a while! Yay! But ew, Stephen Hadley, ew, ew, ew!
But it gets better, because now it's guest stars! Hooray! And it's none other than frolicsome Tzipi, Condi's erstwhile sapphic lover:
(AP)
Folks, I find this body language to be highly ambiguous. Are they blocking each other? Reaching out towards each other? Are they hurting inside but too proud to beg? Oh Condi 'n' Tzipi, you can work it out!
But if it doesn't work out, well... well, that brings us to our third fabulous photo-op of the day. Condi imported a whole harem and that'll show that Tzipi!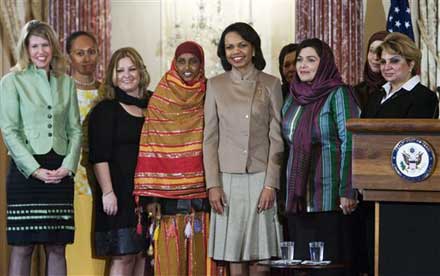 Secretary of State Condoleezza Rice, center, and Andrea Bottner, senior coordinator, Office of International Women's Issues, left, pose with recipients of the 2nd Annual International Women of Courage Awards at the State Department, Monday, March 10, 2008, in Washington. From left are, Bottner; Virisila Buadromo of Fiji; Valdete Idrizi of Kosovo; Farhiyo Farah Ibrahim of Somalia; Rice; Nibal Thawabteh of Palestine; and Dr. Eaman Al-Gobory of Iraq. (AP Photo/Manuel Balce Ceneta)
Hey, I won't knock it. And it's such a cute idea to have Condi there for contrast amongst these remarkable women with their peaceful achievements. It's kinda like that great Sesame Street song
One of these things is not like the other
in real life! Kinda!